Crafts | Produce | Lifestyle & Wellbeing
The North has an abundance of award-winning entrepreneurs of consumables; from jams, to cheeses, to pie's and desserts.
Alongside this, the north holds some of the most creative artists and craftspeople. We're here to celebrate that.
Our Artisan Market line up is underpinned by our philosophy to provide quality and variety to our guests.
Want to exhibit? Email us at foodanddrink@heatonparkfoodfestival.com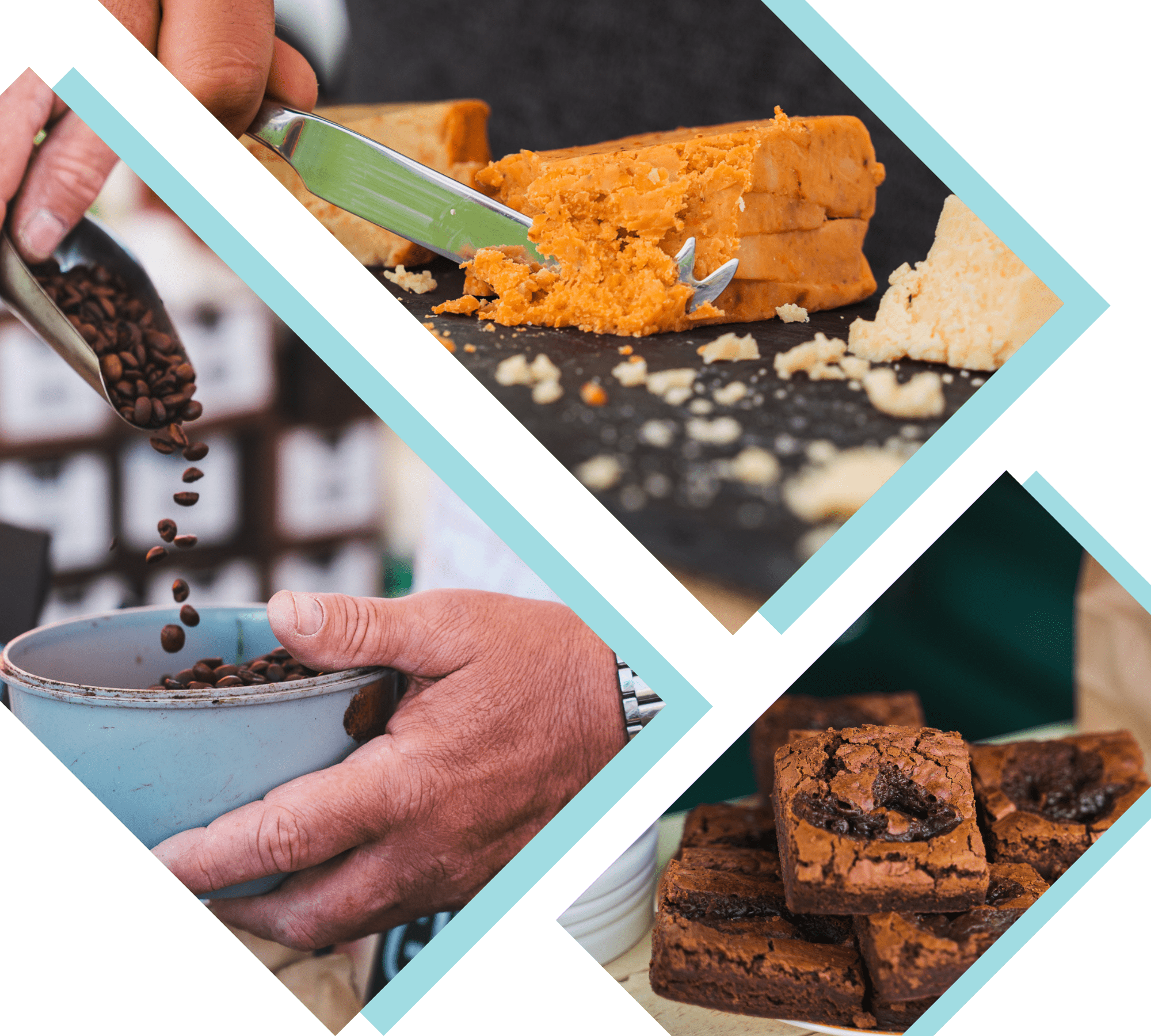 Previous years Artisan Market traders:
Gifts, Handmade and Crafts:
Jewellery Star
Laserhandcrafts
Peace of Crystal
Rex's Succulent Emporium
CAHM
Cork & Chisel
Play Wooden
WAX THIS WAY
The Tru Soap Co.
For The Love of Earth
Picadora
Rich Green Fashion
Pure Indulgence Soaps
The Retuned Wood Co.
Minifigure Mania
Beer Can-dles
Rock and Rose Jewellery Making
Pacific Ridley
The Manchester Bow Co.
Cakes, Sweets and Bakery:
Itadeli
Manchester Cheesecake Co.
Roscoe's Cakes
Volcano Cookies
Cinnammmm
The Sunrise Pattiserie
Sweet Escape
MoodyMare Patisserie
Sweet Sisters Cakery
Bespoke Brownies
Fudge Fudge Wink Wink
Wicked Fudge
Pick Mix Gift
Hey Sweetheart Sweetshop
Savoury and Meats:
Sizzlers Prime Meats
Yau's
Flavour Art Coffee
Mr Vikki's
Feinkost
Crazy Canary Hot Sauce
Shaw Meats
Bakehouse Three Nine
La Focaccia
Mighty Spice
The Cheese Board
Great British Cheese Co.
Yorkshire Dama Cheese
Jones Pies
Andalucian Olive Co.
Gilly's
MKS Food Distribution
Drink:

Old Con Distillery
Northern Fox Yorkshire Gin
Ginka
LUXLO Spirits
Two Lasses Spirits
Libations Rum
Sugar Beet Vodka
Bytchmix Cocktails
Northern Shakers
The Alcohol Free Drinks Co.
Root2Ginger
O'Donnell Moonshine
Whistler's Storm
Cooleswan Irish Cream Liquer
Charity:
The Woodland Trust
WWF
Wellbeing, Business and Community:
Butternut Box
Peak Garden Furniture
DASH Dog Treats
Barkelicious
Experiences:
Cherry Blossom Henna
Amara's Space
Liquor Studio
Axes to Ashes
Makemyeventsparkle